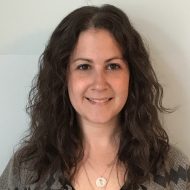 Laurie Solmon
CHILD & FAMILY THERAPIST
Laurie completed her Master of Social Work degree from the University of Toronto. Following graduation, she worked for four years at Peel Children's Centre in Mississauga. She then took a year of maternity leave and in 2016, returned to work at Sick Kids Centre for Community Mental Health, formerly the Hincks-Dellcrest Centre, where she continues to work part-time. In her role as a Child and Family Therapist, Laurie facilitates individual therapy, family therapy, and parenting support, participates on a multidisciplinary assessment team, runs parent workshops, and provides clinical supervision and training to Master of Social Work practicum students.
The past six years of Laurie's career have been focused on supporting the social, emotional, and behavioural well-being of children, youth, and their families. Sensitivity, compassion, and understanding are central to Laurie's clinical work, where the main goals are to ensure a safe environment for clients to explore their thoughts, feelings, and behaviours, and to work towards positive change. Using a strengths-based approach to counselling, Laurie supports her clients in discovering their own inner strengths, skills, and resources, to reinforce their abilities to manage their stresses. Working with various therapeutic models, including solution-focused, emotion-focused, and cognitive-behavioural therapies, allows Laurie to tailor interventions to unique family circumstances. Laurie works collaboratively with clients and their families to address a range of mental health challenges including anxiety, ADHD, depression, emotion dysregulation, non-suicidal self-injury, family conflict, and grief.
Laurie spends her free time coming up with creative ways to entertain her toddler and enjoys spending time with friends and family.